We are really excited to reveal a project we have been working on as part of our LOWE social impact programme! Our fantastic in-house LOWE Maintenance team recently completed a garden project to transform the outdoor visitor space at Brixton Prison. 
The existing internal visitor's space is a welcoming place for families and children to spend time before visiting a friend or family member inside the prison, however, the overlooked outdoor space had become completely overgrown, and was unusable. Even in its neglected state, it was evident that the space had ample potential for us to create a garden that families could enjoy, and we envisioned a bright and hopeful space to give families the most positive experience possible during their visits.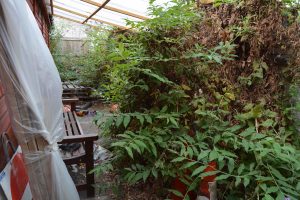 This project was introduced to us by Brixton-based charity Bounce Back, with whom we have a longstanding and close working partnership. Bounce Back provides training skills to inmates at Brixton Prison nearing the end of their sentences and connects them with jobs upon release, and we have worked with Bounce Back for several years on our own prison-leavers programme, placing ex-offenders in job roles within our property services team.
At LOWE, we believe businesses should play their part in positively shaping the communities in which they operate, so we can bring about worthwhile change where possible. The garden project also holds particular significance for us as the office, and much of the LOWE team are Brixton-based, rendering the garden project a profoundly local project, which we felt would have a direct positive impact on the local community and surrounding areas.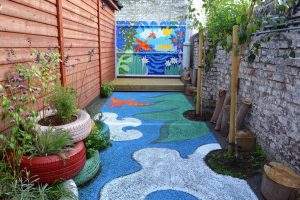 Moreover, a valued member of our maintenance team, who joined us through Bounce Back's prison-leavers programme, played a vital role in this project, and it was a fantastic opportunity for them to undertake a deeply personal project. Our skilled maintenance team managed the clearance and much of the fit-out, with team members from the LOWE office visiting throughout for a fully inclusive community project.
For the final touches, we worked with a local Brixton-based artist, Isi Boyd (Isi Boyd Design) to design an inspirational mural. Isi used a vibrant colour palette and playful designs to create a space filled with life and hope, ensuring families can enjoy the outdoor space and be surrounded by positivity.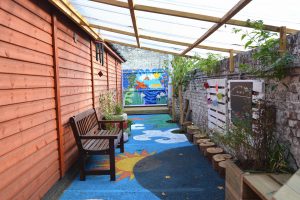 Our team at LOWE is responsible for keeping the space clean and tidy, and we visit weekly to ensure that it is always in tip-top shape! We encourage community-based activities within our team, and this is the perfect opportunity for us to dedicate time to help benefit the local community.
Please click below to watch the full fit-out: