PCR Test Site at One of Our Guardian Properties
Working alongside Lambeth Council and our Client, Surrey County Cricket Club, we were immediately onboard to facilitate a temporary PCR Test Site in the carpark of our guardian property, Ovalhouse Theatre, offering asymptomatic PCR tests to those living locally and to help identify if there are any further cases of this particular strand of the virus in the area. As Ovalhouse Theatre is currently occupied by LOWE guardians, we worked to ensure sufficient safety measures were put in place to allow the testing site to take place, such as fencing off a path to the entrance for the guardians from the main testing site.
The testing site was set up and put in place over the penultimate weekend of April and ran in the carpark of Ovalhouse Theatre for just over a week. In that time, a testing team of 10 volunteers were able to complete just under 200 tests. This is an incredible achievement, and we are extremely proud to have been able to support Lambeth Council in monitoring the spread of the virus and stopping further infections.
Alex Jackson, the Lead Commissioner of Public Health for Lambeth Council, commented "Yesterday was the final day of testing at Ovalhouse Theatre car park, as this period of surge testing period comes to an end. In total just under 200 tests were completed at the site, which is incredibly positive, and hopefully many people were able to get a test who otherwise wouldn't have done.
Between our communications with the team at LOWE and Surrey County Cricket Club we were able to make this happen, and it will be invaluable to the local Kennington and Vauxhall community, as well as the wider Lambeth and Wandsworth area."
Jon Surtees, Head of Media at Surrey County Cricket Club added "It was fantastic to see everyone working together to facilitate the PCR test site in the carpark of Ovalhouse Theatre. After my initial conversations with Jack and Josh, it was great to see the team at LOWE work quickly with Alex and David from Lambeth Council to deliver the project in time for it to open. I hope that it will be of tremendous use to local communities in staying safe."
As we continue to take our lead from the latest Government advice, we are thrilled to have been part of this significant operation in keeping Lambeth safe, and the pioneering fight against Coronavirus.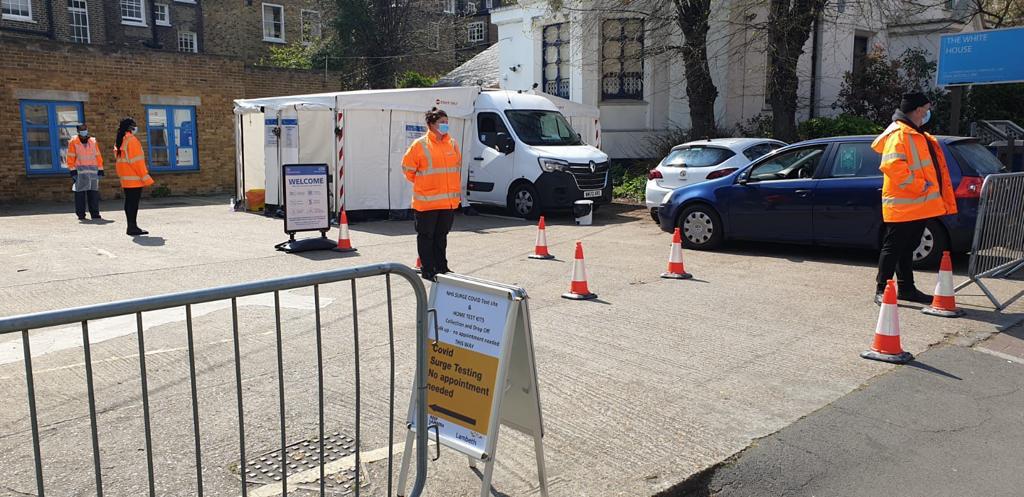 Photo credit: Lambeth Council