The maintenance team attend our buildings as requested by the LOWE Helpdesk, to organise, carry out and complete remedial and planned works to our buildings, providing key updates and feedback to the Property Services team, including the need for additional materials or support from trusted contractors. All works are recorded on our property management tool, Fixflo, an instant, smart messaging platform which helps our team manage repairs and maintenance issues quickly and efficiently.
Mohamed, Darius and Lerone make up our projects team and work alongside our Property Services team on all the fit-outs of our new properties. Ensuring all the works are completed to a professional and high standard, they transform vacant buildings into safe and habitable environments for our licensees, meeting all the necessary compliance, regulations and Health & Safety standards.
The LOWE Maintenance team are presented with a wide range of maintenance jobs on a daily basis, meaning that they are qualified and highly skilled in:
Plumbing skills, such as shower and tap repairs and replacements, washing machine installations, remedial repairs and removal of pipework.

General building maintenance, including painting, plastering, tiling and silicone repairs.

Roofing

Carpentry skills & joinery

The replacement and adjustment of locks

Door fitting & repairs

Boilers systems

Window and glass fitting replacements 

Ongoing electrical maintenance, including electrical installations within our properties, fault finding and testing.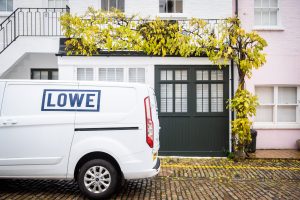 Projects Team
Lerone (or Lee), originally from south London, is one of our maintenance operatives and is the team lead in all project fit-outs. Lee initially joined our maintenance team through a recommendation from his brother, Jerome, who is also on our Property Services Team. Lee joined the team on a training programme, quickly impressing the wider team with his skills and enthusiasm, despite his limited prior experience. Over the last two years, Lee has gone from strength to strength, constantly developing and broadening his skill set, and has supervised some of our company's most significant fit-out projects, with The Greenwich Inn in Deptford serving as a standout achievement. Lee is now in the process of undertaking a further training programme to become the project team supervisor, with the direct support of the Head of Property Maintenance, Andre Tulloch. 
"I have learnt so much over the last two years, and I am now really familiar with all aspects of maintenance. When I first started, I had basic painting and decorating skills, but I can now proudly say that I played a big role in renovating entire buildings. I find the entire process so satisfying, and am always so excited to see the finished results. It is nice knowing that you are helping to create additional homes for the local community."
Mohamed is one of our fantastic maintenance operatives, primarily specialising in project-based fit-outs, alongside Lee and Darius. Originally from Algeria, he made the move to the UK over a decade ago, bringing with him over 15 years of invaluable experience in the construction industry. Starting his career with a specialisation in plastering, Mohamed has evolved into a rounded professional, now skilled in all aspects of maintenance; including plumbing, fault finding and roofing. His role is pivotal, particularly in the fit-out of projects under our social impact program, with notable contributions including his involvement in the Brixton Garden Project and the renovation of the Young Lewisham Project bathrooms.

"The LOWE maintenance team are like a family – we work together really well! Working here allows me to feel like I am helping people, and what makes it even more rewarding is working on projects for charities and social enterprises, because it's in these moments that I get to meet new people and see first-hand the positive impact that we're having."
Darius is one of our skilled maintenance operatives specialising in the projects team. He initially joined the maintenance team in 2017 on a part-time basis, and after going back to his home country of Lithuania for a year, he has now returned to the team on a full-time basis. Darius's expertise lies prominently in carpentry, with over 20 years of hands-on experience. His craftsmanship extends beyond carpentry, as he's developed proficiency in plumbing and electrical work. Darius played a significant role in our recent social impact projects, most recently contributing to the successful fit-out of the Young Lewisham Project bathrooms.
"I have been with the company for over 7 years – so it is clear that I love it here! I am always getting to challenge and develop my skills, as no two days are ever the same."
Our projects team have taken on several incredibly successful projects, transforming derelict buildings into affordable accommodation for local key workers. This not only benefits the property owner and the local community, but it also has a particularly positive impact on the neighbours. 
One of the most prominent success stories of this is The Greenwich Inn, a project in Deptford that we undertook in early 2023 that required four months of dedicated work from our skilled maintenance team.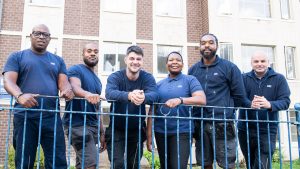 The Greenwich Inn, a former pub left vacant for over seven years, had fallen victim to squatters and disrepair; posing an escalating issue for the local neighbours and surrounding area. The council-owned property underwent an extensive refurbishment, completely rendering it unrecognisable! 
Less than half a year on, this once neglected property is now home to young creatives, key workers and professionals; all utilising the spacious rooms, unique communal space and great transport links to better their careers and benefit the local community. This project stands as a testament to the skill of our in-house maintenance team, and commitment to revitalising neglected spaces for the benefit of the wider community. 
You can learn more about the Greenwich Inn here.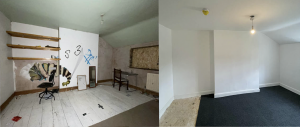 Reactives Team
In addition to our dedicated projects team, we also have our specialised reactive engineers; Joaquim and Jerome. These two play a pivotal role in ensuring that all of our existing properties are kept in tip-top shape, swiftly addressing and fixing any maintenance issues reported by licensees or the Property Services team. They travel from Winchester to Walthamstow, and Bermondsey to Brighton, ensuring that anything flagged via FixFlo is efficiently and effectively dealt with – not only preserving the integrity of the property but also prioritising the safety and comfort of our licensees. Whether it's a light bulb change or a more significant plumbing issue, Jerome and Joaquim will be there to help in no time!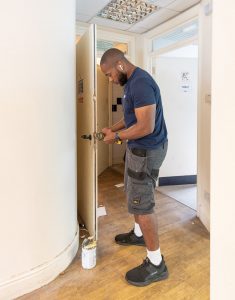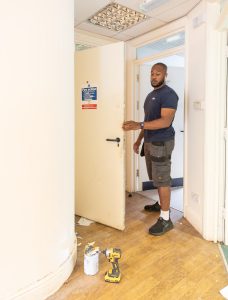 If you have a vacant building and you would like to find out how our bespoke service can work for you, contact us today for a free consultation report with our recommendations on how best to protect your building.