The maintenance team attend our buildings as requested by the LOWE Helpdesk, to organise, carry out and complete remedial and planned works to our buildings, providing key updates and feedback to the Property Services team, including the need for additional materials or support from trusted contractors. All works are recorded on our property management tool, Fixflo, an instant, smart messaging platform which helps our team manage repairs and maintenance issues quickly and efficiently.

Eddy and Bogdan also work alongside our Property Services team on all the fit-outs of our new properties. Ensuring all the works are completed to a professional and high standard, they transform vacant buildings into habitable environments for our guardians, meeting all the necessary regulations and Health & Safety standards.
LOWE Maintenance are presented with a whole range of jobs on a daily basis, meaning that they are highly qualified in:
Plumbing skills, such as shower and tap repairs and replacements, washing machine installations, remedial repairs and removal of pipework.
General building maintenance, including painting, plastering, tiling and silicone repairs.
Carpentry skills
The replacement and adjustment of locks
Boilers systems
Ongoing electrical maintenance, including electrical installations within our properties, fault finding and testing.
Bogdan is an environmental engineer by trade and has worked at water treatment and recycling centres in Romania, where he learnt about the processes that go into reducing our impact on the environment. He came to London in 2015 and started working in the guardian industry as a maintenance manager, and joined LOWE in 2019 as the in-house maintenance operative. Bogdan is also a LOWE Guardian and lives with his wife in one of our council flats.
"The great thing about being a maintenance operative for LOWE is that every building is so different, and I love the challenge each one presents. I have always been a practical, hands-on person so I really enjoy the challenge of solving different problems. No two days are ever the same."
Eddy studied Public Administrations at the University of Bucharest, before deciding to move to London in 2017. He worked as a delivery driver before joining the LOWE Maintenance team in May 2020. He now works with Bogdan on the fit-outs of all our new buildings.
"The best part of doing a fit-out is seeing the progress of the buildings; from when we first take them on, some in a very bad condition, to after the guardians have moved in – some guardians are so creative and artistic with their rooms. It's very satisfying to see the results."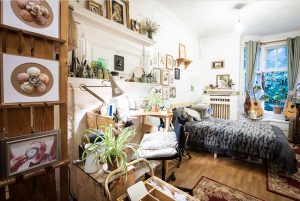 If you have a vacant building and you would like to find out how our bespoke service can work for you, contacts us today for a free consultation report with our recommendations on how best to protect your building.